Språktjänster inom Vetenskap, Medicin, Ekonomi och Marknadsföring (Engelska-Franska-Svenska)
Likazo Communications specialiserar sig på att kommunicera vetenskaplig, medicinsk, ekonomisk och marknadsföringsinformation som är korrekt anpassad till aktuell målgrupp. Likazo Communications är grundat av mig, Nina Pettersson, som är svensk och bosatt i de franska Alperna. Jag är en välutbildad internationell översättare och publicerad forskare, som erbjuder specialiserade språktjänster inom Life Science och Företagsekonomi.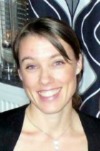 Förutom högkvalitativa översättningstjänster från engelska och franska till svenska, erbjuder jag även andra spåktjänster så som att skriva, korrigera eller kommentera vetenskapliga artiklar, vetenskapliga/medicinska rapporter, ansökningar om forskningsanslag, klinisk prövningsdokumentation, SOPs, Säkerhetsdatablad, Copy Writing, etc. Jag strävar efter att optimera kommunikationen inom vetenskap och läkemedelsindustri så att mina kunder snabbare och effektivare ska kunna nå sina mål. Tveka inte att kontakta mig om du har några frågor, vill diskutera ditt projekt eller för att få ett gratis kostnadsförslag.
Genom att kombinera en doktorsexamen i Molekylärbiologi, studier i Företagsekonomi och Marknadsföring och yrkeserfarenhet inom läkemedelsindustrin med mina språkkunskaper, kan jag hjälpa företag och universitet att skapa anpassade texter som når rätt målgrupp. Likazo Communications levererar alltid högkvalitativt arbete inom överenskomna tidsfrister, och ger dig personlig kundservice, uppmärksamhet och sekretess.
Rekommendationer
"Nina is a very professional writer. She gave me top-notch content, and made the adjustments I required quickly and accurately. She adhered to the deadline religiously - she was even a bit early. I will definitely work with her again."
J. C., Scientific writing of a high quality genetics article (see link in publication list).
"I was extremely please with Nina's work. I gave her a very tight deadline and she delivered a high quality piece of work. I have every intention of giving her more work in the future. "
F. J., Swedish Copywriting
"It was a pleasure working with Nina! Very professional work and communication! We will definitely work with her again!"
Yazio, Translation of Nutrition data base for mobile app. English to Swedish.
"I have hired Nina to help me writing a grant application for a Swedish funding agency. Nina gave me constructive comments on what was the right language to use in an application, how to highlight the importance of my scientific project and finally helped me with the translation of the abstract in Swedish, as required by the call.I am satisfied by her work and I can recommend this service to other scientists who need to write an application to raise funding for their research."
G. L., Italian Researcher in the Public Health Domain
"Nina is perfect. Friendly. Quick. Excellent translations.  A pure joy to work with."
S. R., Translation of Swedish legal document into English and French.
 "Great work quality and speed. True professionalism!"
M. M., Translation from English to Swedish of beauty products for a website.
 "Thank you, very good work. Quick and no error. Nina is a very professional writer."
V. W., Translation from English to Swedish for a webshop selling watches.
 "Great Freelancer, will hire again!"
R. S., Translation of CV and Cover letter from Swedish to English.