Professional Swedish Translation Services of Medical, Scientific and Business documents
Lika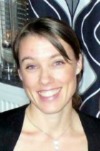 zo Communications consists of me, Nina Pettersson, a Swedish expatriate living in the french Alps, who specializes in communicating Scientific, Medical and Business information, adapted to the target audience. I provide high quality Translation and Localization Services from English and French into Swedish. I combine a PhD in Molecular Biology, a MSc in Biochemistry and professional experience in the pharmaceutical industry with highly developed linguistic skills, to help companies and universities to create adapted and localized texts that reaches the target audience. My goal is to help my clients to optimize their communication in order to faster achieving their goals.
Do not hesitate to contact me if you have any questions or would like to get a quote for your project. Likazo Communications always deliver high quality work within deadlines, and give you personal customer service, attention and confidentiality.
Testimonials
"Nina is a very professional writer. She gave me top-notch content, and made the adjustments I required quickly and accurately. She adhered to the deadline religiously - she was even a bit early. I will definitely work with her again."
J. C., Scientific writing of a high quality genetics article (see link in publication list).
"I was extremely please with Nina's work. I gave her a very tight deadline and she delivered a high quality piece of work. I have every intention of giving her more work in the future. "
F. J., Translation of business documents. English to Swedish
"It was a pleasure working with Nina! Very professional work and communication! We will definitely work with her again!"
Yazio, Translation of Nutrition data base for mobile app. English to Swedish.
"I have hired Nina to help me writing a grant application for a Swedish funding agency. Nina gave me constructive comments on what was the right language to use in an application, how to highlight the importance of my scientific project and finally helped me with the translation of the abstract in Swedish, as required by the call. I am satisfied by her work and I can recommend this service to other scientists who need to write an application to raise funding for their research."
G. L., Researcher in the Public Health Domain
"Nina is perfect. Friendly. Quick. Excellent translations.  A pure joy to work with."
S. R., Translation of Swedish legal document into English and French.
 "Great work quality and speed. True professionalism!"
M. M., Translation from English to Swedish of marketing material.
 "Thank you, very good work. Quick and no error. Nina is a very professional writer."
V. W., Translation of marketing material from English to Swedish.
 "Great Freelancer, will hire again!"
R. S., Translation of marketing material from Swedish to English.